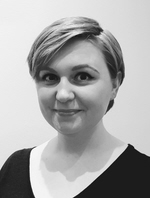 Edyta Starzynska
MSc Forensic Psychology
Currently undertaking professional training in Psychosexual Therapy at UCLan
Working towards a COSRT approved Master Degree in Psychosexual and Relationship Therapy
Being supervised by a COSRT Accredited Psychosexual and Relationship Psychotherapist
Edyta is a general member of COSRT and abides by the COSRT Code of Ethics and Practice.
Edyta is originally from Warsaw, Poland, where she gained her first Master's degree in Forensic Psychology in 2014. During that time, she expressed a vivid interest in human sexuality, which resulted in her producing her dissertation on intimacy and family relationships among homosexual women with full marks.
Training and Experience
Edyta has experience of working in mental health clinics, where she was responsible for providing group therapy to patients with mental health issues such as depression and bipolar disorders. As a member of the mental team, Edyta participated and contributed to MDT meetings where mental health conditions were assessed and diagnosed in patients. Additionally, Edyta volunteered for a national LGBT charity in Warsaw for 2 years, where she worked as part of their psychological team. She worked alongside Agata Loewe, who is one of the leading sex experts in Poland. In her work, Edyta uses the principles of integrative psychotherapy, with particular focus on cognitive-behavioural techniques.
Edyta has developed sound knowledge and understanding of positive sexuality, which she now considers the basis of her work. She is also a vivid supporter of affirmative therapy that enables her to validate and advocate for the needs of sexual and gender minority clients.
About Edyta
Currently, Edyta is undertaking additional professional training in Psychosexual and Relationship Therapy at the University of Central Lancashire and her clinical work is fully supervised as required by the University and professional body. Edyta is a General Member of the College of Sexual and Relationship Therapists (COSRT) and abides to their Code of Ethics. She is fully insured and has up to date DBS checks.
Edyta has a particular interest in working with individuals and couples with presenting issues including sexual orientation, gender identity and 'alternative lifestyles'. She is also interested in issues surrounding sex workers.