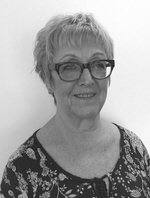 Sue Shtewi
MA, RN Adv Dip Counselling, Adv Dip Hypnotherapy
NMC Registered
MBACP Psychotherapist
Psychosexual Therapist (2447/580)
MA in Counselling Studies | Advanced University Diploma in Counselling studies | English National Board (ENB) Psychosexual Counselling | Family Planning and Sexual Health Qualification (ENB)
Sue Shtewi is a registered BACP Psychotherapist, a Psychosexual Therapist, Hypnotherapist and is NMC Registered. Sue is also trained to use EMDR Protocols.
Sue completed a MA in Counselling, her research subject was 'Cross dressing and heterosexual males and was counselling of benefit. Sue has supported individuals with gender identity issues for over 30 years. Sue has a sensitive and caring approach and has been helping men and women in the Greater Manchester and Cheshire regions to overcome a range of sexual and relationship difficulties. Sue also has experience working with cancer related sexual health issues.
Communication and emotional issues within relationships.
Sexual dysfunctions such as painful sex and loss of desire or libido.
Affairs and infidelity.
Sexual Trauma
Cancer and Sexuality
Sue works ethically and confidentially following the BACP and College of Sexual and Relationship Therapists (COSRT) ethical framework. Sue is fully insured.
A comprehensive overview of Sue's qualifications, experience and accreditations is provided below. See also

profile.
Please feel free to contact Sue for further information.
Qualifications and Training
College of Sexual and Relationship Therapists (COSRT) member.
British Association for Counselling and Psychotherapy (BACP).
Advanced Diploma in Counselling Studies.
Eye Movement Desensitisation and Reprocessing Therapy training with EMDR UK and Ireland.
Registered Nursing.
Clinical Supervision Training.
Current Positions
Psychosexual Specialist (Beechwood Cancer Care Centre, Cheshire).
Working in Private Practice.
Clinical Supervisor.
Clinical Supervisor.
Member of EMDR UK and Ireland.
Hypno Psychotherapist (The Hypnotherapy association)
Previous Posts
Psychosexual Therapist (Stepping Hill Hospital).
Family planning and sexual health nurse (Stepping Hill Hospital).
Counsellor at St Marys Hospital, Manchester (Sexual assault referral centre).
Community Nurse (Tameside and Glosop).
Registered Nurse.
Sue's background is as a Registered Nurse. Sue has an Advanced Diploma in Counselling, 1994 and a Masters in Counselling Studies, University of Manchester, 2003. Sue is a member of the British Association of Counselling and practises as a Counsellor/Hypno-psychotherapist in Manchester since 1993, and worked in private practice since 2007. Sue is also a Qualified Psychosexual Counsellor and sees clients with sexual problems and also specialising in Transgender, Gender Nonconforming People, Gender Identity Disorder and Gender Dysphoria. Sue has counselled well over 300 individuals who have progressed to have hormone therapy and gender re-assignment, and I would like to thank all my clients for the ongoing experience and knowledge I have gained from them.
Sue sees clients with many underlying issues which can be treated successfully with hypnosis: Stress, lack of self-esteem/confidence, relationship/psychosexual problems, anxiety, panic attacks, depression. She has also been professionally trained at the Academy of Holistic Hypnotherapy in Inner Child Work, which is a wonderful therapy to allow the adult to meet their inner child and work through issues that stem back to childhood, and allows them to grow into confident adults.