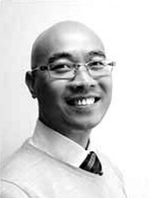 Chi Ko
MSc (Psychology), PGDipPST, RMN, RPSI, DPSN
ATSAC Trustee
MBACP Accredited Psychotherapist
COSRT Accredited Psychosexual and Relationship Therapist
ATSAC Registered Sexual Addiction Treatment Specialist
Clinical Placement Supervisor for University of Central Lancashire
Chi is a clinical Sexologist and is currently appointed as a Trustee for ATSAC. He is passionate about helping his clients to feel positive about their sexual selves so that they become happier and more fulfilled within themselves or in their relationships. His empathic and non-judgemental approach in therapy enable his clients to feel safe and be vulnerable with him so that they can work collaboratively and achieve the best possible outcomes.
Chi is originally from Hong Kong, a cultural diverse city with great influence from the East. Over the years, he continues to develop his therapy style towards an existential and humanistic approach. During therapy, he encourages clients to work with their feelings and emotions that are often difficult and challenging. His non-judgemental and collaborative approach enables him to share insights and rapport with his clients.
Chi uses EMDR protocols when working with sexual trauma and addictions. He has completed a professional diploma working with Sexual Addiction and Compulsivity, approved by ATSAC. Currently, Chi is an honorary research associate with Liverpool University, 'Investigating Partners' Perspectives for Partners of Sexual Addicts'. He believes that supporting and working with partners is one of the key elements in the healing of couple relationship following sexual betrayal.
Chi is a Clinical Supervisor, approved by University of Central Lancashire, for trainee psychosexual therapist. He is also a volunteer for St Catherine's Hospice where he has provided bereavement counselling for individuals since 2011.
Areas of Expertise
Chi works with a range of conditions and difficulties in both traditional and unconventional relationships. For example:
Change of Sexual Desire (medical and non-medical).
Erectile and Ejaculatory problems.
Arousal and Orgasmic Disorders.
Painful Sex.
Reduction of Sexual Intimacy following traumatic events (childbirth, surgery, cancer etc).
Sexual Identity and fluidity.
Sexual Confidence due to changes of body image.
Lacking Sexual Information/ Education.
Fear of Intimacy or Sex.
Sexual betrayal or Infidelity.
Porn or Sexual addictions.
Loss of trust.
Jealousy and Resentment.
Chi works ethically and confidentially following the College of Sexual and Relationship Therapists (COSRT) ethical framework. He is fully insured and has up-to-date DBS Disclosure.
A comprehensive overview of Chi's qualifications, experience and accreditations is provided below. See also

profile.
Please feel free to contact Chi for further information: http://www.cosrt.org.uk/buddypress/members/chi-man-ko/
Qualifications and Training
Master in Psychology – University of Central Lancashire.
Postgraduate Diploma in Psychosexual and Relationship Therapy (Level 7) – University of Hull.
Registered Mental Health Practitioner – NMC.
Eye Movement Desensitisation and Reprocessing Therapy (4 Part) training – Approved by EMDR Association UK & Ireland.
Clinical Supervision Skills Certificate – BPS Approved.
Professional Diploma in Working with Sexual Addiction – Approved by ATSAC.
Certificate in Coaching Skills – Lancaster University PTA.
Training for Trainers in Sexual Health – Department of Health.
Mindfulness practice and training in groups – ACROSS.
Diploma in Counselling – ABC.
Proficiency in Counselling – BACP.
Diploma in Translation – Chartered Institute of Linguists.
Diploma in Professional Studies in Nursing – Salford University.
Working with Sexual Offending Behaviours (Risk Assessment and Therapeutic Intervention) – STOPSO.