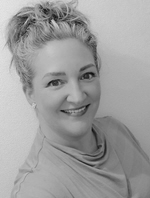 Joanne
BA (Sociology), Dip Therapeutic Counselling, MBACP PCT
COSRT General Member, working towards a COSRT approved 4-yr MSc (Psychosexual Therapy) at UCLAN.
Regularly supervised by both, a BACP Accredited Person-Centred Therapist and a COSRT Accredited Psychosexual Therapist.
Alongside working towards an MSc in Psychosexual Therapy; Joanne is following a CPD course in Acceptance and Commitment Therapy.
Joanne is a Person-Centred Therapist who has experience of working with young people around issues of sex, sexual identity and relationships. She is passionate about helping clients to feel positive about themselves as individuals and within relationships. Joanne creates a safe environment for clients to express themselves freely at their own pace, working through feelings and emotions that are sometimes difficult and challenging. Her empathic and non-judgemental approach allows clients to feel wholly respected and understood.
Training and Experience
Joanne began counselling in 2017 at the John Holt Cancer Support Foundation in Warrington. On placement here, she worked with adults touched by Cancer, either currently living with or having survived, illness. From here, she went on placement to work with college students attending Wigan and Leigh Colleges. More recently Joanne has worked with high school and college students at St Mary's, Astley.
Joanne has worked successfully with clients on a range of issues from a therapeutic, non-medical perspective, such as:
Anxiety and depression
Bereavement and loss
Abuse and trauma
Living with Cancer
Loss of identity
Body image
Infidelity and sexual betrayal
Jealousy and resentment
Change of sexual desire
Fear of intimacy
Loneliness